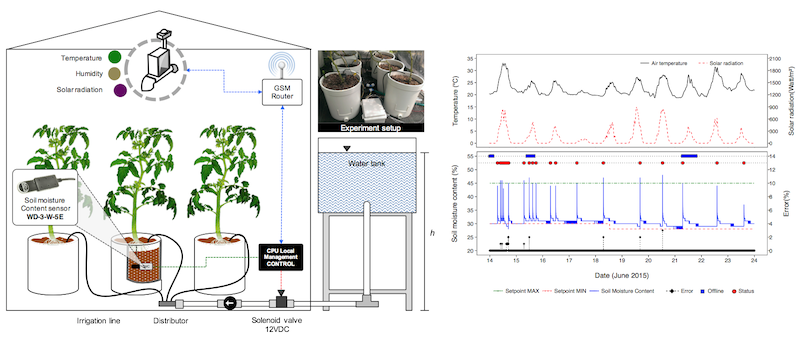 The suitable environmental condition is necessary to obtain the maximum plant growth during the agriculture cultivation. To achieve appropriate environmental condition, we consider the implementation of environmental control. In tropical agriculture, irrigation control is one of the applications that can be established by the smart agriculture framework for flexible and simple operation [1]. The irrigation control implemented on/off logic control for water supply according to the soil moisture content as input reference, called the sensor based control. Other methods that can be explored is the climatologically based controller, as known as evapotranspiration controller (ET-controller). ET can be estimated from the measured environmental condition in real-time to provide an on-demand assessment of estimated water loss.
However, the practical implementation of both sensor and climatological type controller in tropical agriculture still needs to be optimized in the matter of investment and operational cost, water consumption, and the smart controller part.
To deal with challenges on the optimization of irrigation control, we are conducting two topics:
Development of hybrid sensor and climatological type control system for optimum water consumption
Development of smart irrigation controller with energy scavenging features for tropical agriculture in the remote area.
Reference
[1]. Nugroho, A., Okayasu, T., Hoshi, T., Inoue, E., Hirai, Y., Mitsuoka, M., Sutiarso, L., 2016a. Development of a remote environmental monitoring and control framework for tropical horticulture and verification of its validity under unstable network connection in rural area. Computers and Electronics in Agriculture 124, 325–339
---
Related pages
» Environmental Monitoring
» Environmental Assessment
» Environmental Control
» Plant Monitoring and Assessment