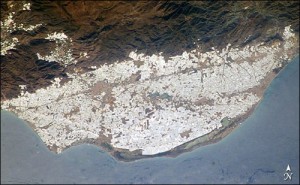 [dropcap]W[/dropcap]inter 2012. Today i had opportunity to join special seminar in IT-Agriculture, held by Laboratory of Farm Management, my neighbor laboratory. The keynote speaker is Prof. Fernando Bievenido frrom Departement of Computer Language and Science, University of Almeria, Spain. He will explain his research entitled "Agriculture and Integrated Production(IP) in Europe: The Almeria's Case". In this note, I just try retell what I catch from his interesting topics.
Cooperation between all the agent was really the key point of implementation Integrated Production(IP)
Integrated Production (IP) is an agricultural system if production of plant product , which fully utilizes all the natural resources and natural mechanisms of production assuring long term sustainable agriculture. it uses rationality different control methods as biological control organism, chemical and other cultural techniques, bringing into line the demands of the society, protection of environment and agricultural productivity. It takes account too of all the operation handling, packaging, processing and labeling. as we know this system will use as standar of distribution of agricultural product in european country. The current agricultural system are Conventional System, Integrated System and Ecologic System (Organic). IP as a system used to transfer from conventional to organic with support of government explained as general concept and implementation in Almeria by Prof. Fernando, he explain about the background of agriculture product market in Europe, standart market, and competition between country to sell their product.
Dealing with implementation of IT-Agriculture, I made my own summary, retell from presentation and his explanation:
IT-Agriculture is important role in implementation IP in existing system, it handle from Administration, Farmer Cooperation, Technical Services, Certification Entities, Commercialization coops, manipulating coops, export traders, transport companies, distribution companies and Consumer.
The system was built by sub system component and communicate each other ( cloud computing / data broker ). The following are some sub system name that used in IP Almeria: PRIM, PRIM Movil, SIG PAC, TRIANA , RAID SIFA SAEPI, ERP Agro Management, ERP Agro Transportation.
Managing all the information, to assure the application of informative and the translation of this certainty to final consumers; requires managing huge amount of information.Developing a suit of software tools that covers the whole production, certification and commercialization process.
Other important point that related to general Integration Production (IP) project is Cooperation between all the agent ( farmer, university, government, company, consumers, and research institution).